"It's Happening In The Field"
Bible-Based Teaching * Salvation & Deliverance * Mission & Outreach
At Springfield Missionary Baptist Church in Atlanta, GA, we organize different church ministries for various age groups. Our ministries are all geared to give glory and spread the Word of God. Our ministries leaders work together to help each member grow spiritually, and provide motivation and encouragement through engaging and meaningful activities that are aligned with our church mission.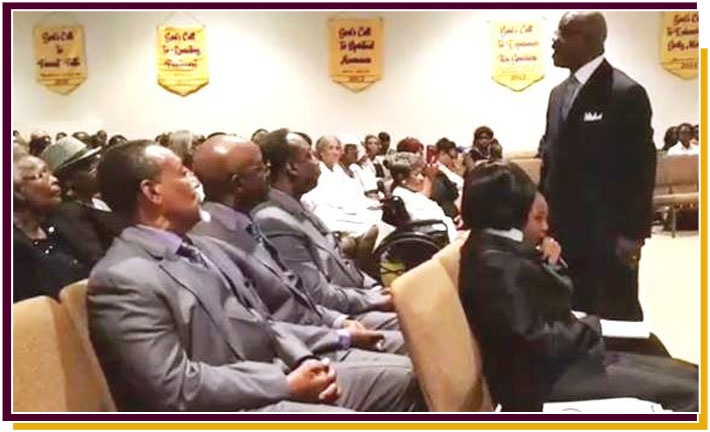 Watch Care Ministry
The Watch Care Ministry at Springfield represents lay people loving and caring for one another. Each member of our congregation is assigned to a Watch Care Family for spiritual support. Our goal is to demonstrate the love of Jesus by connecting with the individual at a personal level, offering prayer, encouragement, care, and aide in time of need. Watch Care teams (consisting of Deacons, Deaconesses, and Mothers) are put in place to carry out the mission. The Watch Care teams are overseen by the Pastor.
John 13:34,35
A new commandment I give to you, that you love one another, as I have loved you, that you also love one another. By this all will know that you are My disciples, if you have love for one another.
Mission Ministry at Home and Abroad
Springfield Missionary Baptist Church (SMBC) has been actively involved in spreading the Good News of the Gospel, not only at home, but also abroad. For a little more than fifty years SMBC has supported missionaries in Liberia, West Africa, through Carver International Missions, (CIM) formerly known as Carver Foreign Missions. Carver Missions had its beginning in October,1955. At that time, the late Rev. Solomon Randolph was pastor of SMBC and was appointed to serve on Carver Missions' Board.
SMBC started supporting its first full-time missionary (Mary Stephens) in Liberia in 1960. As this missionary introduced boys, girls and adults to Jesus, taught students, taught and encouraged adults, assisted in Sunday morning services at the hospital, witnessed in the prison, and counseled young people in Youth for Christ meetings, she was first Christ's ambassador, and secondly she was there for Springfield. The SMBC family (under Pastor Carson) continued to support Missionary Stephens in prayers, finances, encouraging letters, and other needed items. Missionary Stephens is no longer actively serving with Carver, but SMBC continues to support special mission projects in Liberia and other missionaries who visited from time to time. Presently, the church supports Carver Missionary Loretta Tucker in Liberia. SMBC is a part of the Progressive National Baptist Convention and also supports a ministry in Haiti. As a church family, we are challenged to be a beacon of light at home and abroad.
The outreach ministry has been an integral part of Springfield Baptist Church. Over the last thirty-eight years we have engaged the community around us in a variety of ways. The outreach includes having people come to us and us going to them. We have various components to our outreach.
The first component is our door-to-door ministry in our community. Quarterly we strive to reach out to our community in some way. We engage the community through summer revivals in one of the local communities. There is an educational component. We are connected with the schools in our community. Our Pastor has for many years had a reading program in the schools and continue to do so. There is an after school program for our community children. Most of them come from the Scott Elementary School which is next door to our church. Each summer we engage our community through Vacation Bible School and our summer camp that is design to enhance the learning process for our children during the summer. We have emergency provided support to person in the community. We are involved with the local civic and community organization. Our desire is to work with the community to make a better life for those who live where we worship and live as well. Our church has an open door policy when it comes to community meetings and gathering to address community needs and issues. We seek to be a voice for the voiceless and homeless as well. During our church year we have "Brothers Keepers Day." We span across the city of Atlanta to meet our brothers and sisters where they are and share with them the love of God. Our vision is to reach people for the kingdom of God no matter where they are.
Join Our Church Ministries Today

Take part in our church ministries today and prepare yourself to become one of our future ministry leaders. Our church groups are open to all SMBC members who wish to utilize their talents and gifts for ministry; impacting the lives of people for the kingdom while having an alternative venue for prayer and devotion.

To learn more about our ministries, select from the Ministries list above or call the church office at 404-794-5911. We will be more than happy to provide any information you may need to get started.